Hi,
I'm Nina Jaribu and Karin gave me this chance to write a few lines about my new book.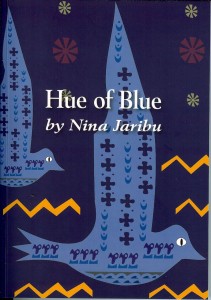 That's difficult. Normally I'd just say that it's better you read it than having me try to say something about it. But now, that Strauss-Kahn guy makes it a little easier for me. You know what? He has stolen the plot from my book and acted it out! Or so it seems. A guy in a hotel room gets out from the shower, stumbles naked toward a room service woman, who quickly gets out of the room, terrified that he'll rape her. After that he – the guy in my book that is – gets accused of all kind of things and… No I shouldn't tell. And I'm not saying that Dominique Strauss-Kahn is innocent (or guilty, we just don't know yet). Just saying that it's a damn weird coincidence. Or do guys do this all the time? I just made it up, you know.
So, perhaps you should read it? Find it at Söderbokhandeln in Stockholm or the net and, oh yes, it's called Hue of Blue. Blå nyans. Karibuni kitabu! Which is swahili for "welcome to enter into the book"!